Back Market Inventory Management
Back Market Inventory Management Software For Your Growing Business
Allow Finale Inventory to easily track inventory stock levels so you can focus on other aspects of your business
The company operates a leading marketplace for refurbished smartphones and electronic devices. Back Market currently a selling platform for the U.S., France, Spain, Germany, Italy, Belgium, the U.K., and Austria. On Back Market, consumers purchase electronics directly from certified sellers (now numbering 1,000 and growing) that refurbish, verify and offer a minimum 12-month warranty for all products, to meet the marketplace's high-quality standards. Focusing on high quality, the platform has built up customer trust as a safe and appealing alternative to buying new.
Many sellers leverage Finale to manage their inventory as they sell on the mobile phones on Back Market and potentially other selling channels such as eBay and Amazon.
Finale has the ability to manage your Back Market inventory with two common configurations. The first configuration allows for a direct connection between your Back Market listing and Finale. Back Market orders are automatically synced to Finale where it will make the proper stock adjustments.
With the Back Market inventory management solution, any quantity changes resulting from a stock operation (such as receiving a PO shipment or shipping out an order) will be updated to your Back Market listing within five minutes to prevent overselling.
If you are leveraging ShipStation for your fulfillment needs, Finale Inventory's Back Market integration makes both inventory management and shipping easier than ever.
Many retailers who utilize the Back Market platform are also multichannel e-commerce sellers who leverage ShipStation to fulfill orders from many marketplaces (e.g. eBay and Amazon) and to manage the warehouse shipment process of those orders using ShipStation, marking the orders as shipped when done.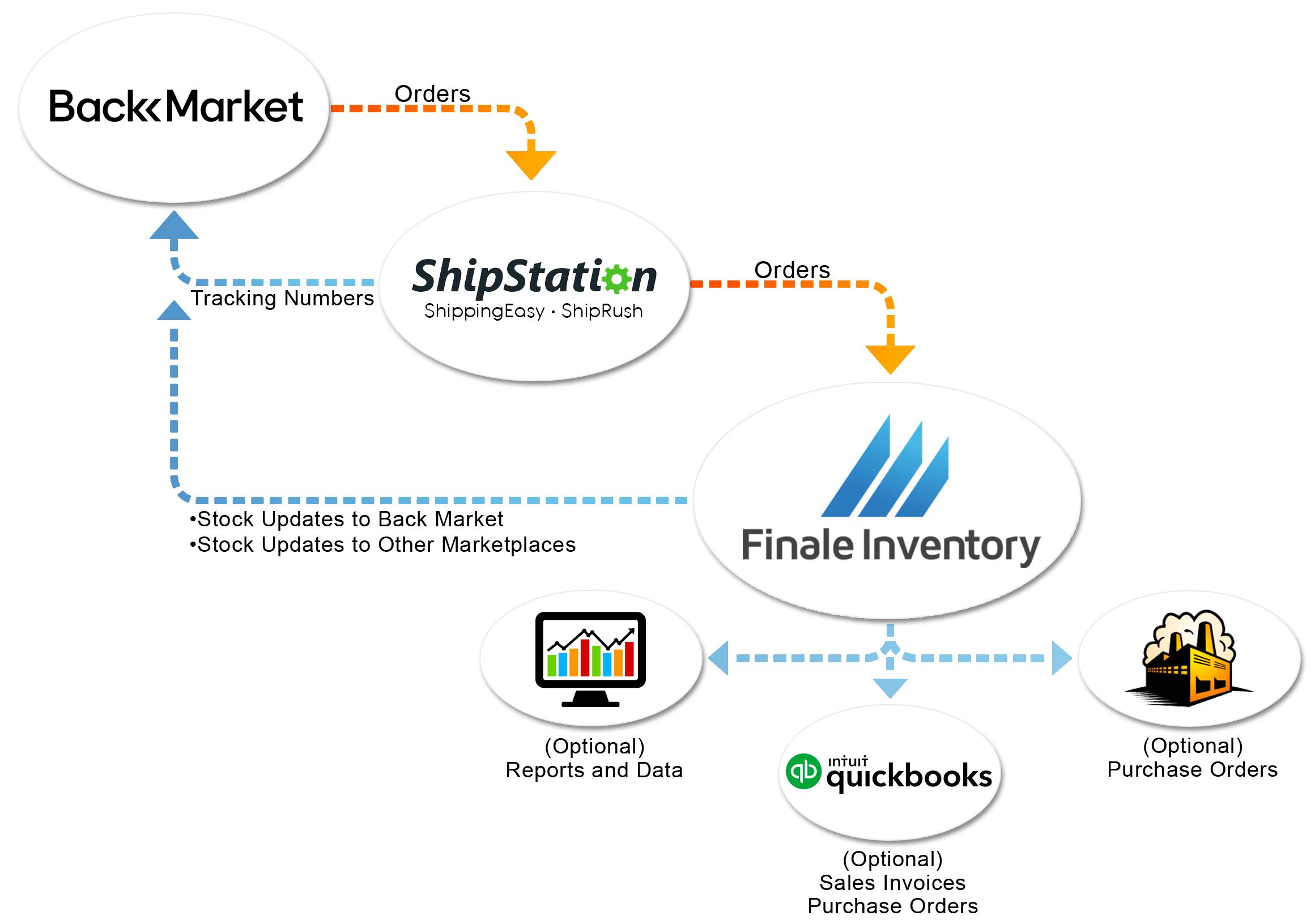 If your company has this shipping process, Finale can be quickly added to your ShipStation integration to keep track of your stock on hand without changing anything about your existing shipping process. Using ShipStation's API, Finale communicates with ShipStation behind the scenes to watch the orders that are marked complete, and seamlessly records the transaction to remove the items from inventory.
Benefits of Finale's Back Market Inventory Management Solution
There are many benefits to using Finale Inventory as your Back Market inventory management solution.
Auto Update your Back Market listings. Finale will manage customer orders from Back Market and other channels. Finale will keep track of all stock levels and will auto-update stock levels back to stock quantities to Back Market and across other channels every 5 minutes. Click here to see a tutorial video.
Support allowing multiple SKUs for a unique Product ID. When you are selling the same phone on multiple listings, Finale has the ability to easily associate multiple alias SKUs to a single Finale product id. For example, you could easily list an iPhone X 64 GB in "Very Good" Condition for the "Fair", "Good" and "Very Good" Condition.
Additionally, when you are selling products on different marketplaces (e.g. Amazon and eBay), you may be forced to have different SKUs for the same product. Many customers manage this unnecessary complexity with Excel worksheets. Finale Inventory handles this alias SKU mapping with a couple of mouse clicks to properly keeps tracks on your inventory.
High Transaction Volumes Support. Conduct a large number of monthly transactions? No problem. Finale Inventory can support up to 1M transactions per month, and we are scaling our architecture to support even higher volumes. High transaction customers should be considering leveraging our integrated turnkey mobile barcode solution to decrease warehouse operations times from receiving and picking while improving accuracy.
Restock Forecasting. Running a growing business is hard. There's a lot you have to keep up with. Leveraging the sales velocity of a product, Finale will automatically calculate dynamic reorder points based on your inputs – supplier lead time, desired safety stock, and expected sales growth — to make smarter, faster-purchasing decisions.
Restock forecasting from Finale gives you one less thing to worry about. When your inventory gets low, we'll send you an alert letting you know it's time to send out a purchase order. You can email the purchase order directly from Finale, and when you receive your shipment with Finale, Finale will update all your channels with the will be updated stock quantities.
Multiple Shipping Location Support. Easily manage your inventory across multiple shipping warehouses from Finale Inventory.
Avoid Stock Outs. Keep your business humming along by creating product count thresholds to know what needs to be reordered to avoid costly stock-outs.
Status Change Automation. When products are back-ordered, orders containing those products are typically marked as "On Hold" in ShipStation. When those products are received in your warehouse and recorded in Finale, Finale will automatically change the order status from "On Hold" to "Waiting" in ShipStation.