SureDone Inventory Management
Suredone Inventory Management Software For Your Growing Business
Many high volume e-commerce sellers utilize both SureDone and ShipStation to efficiently run their business operations as your SKU count and order volume grows, you will need a SureDone inventory management solution.
With SureDone, you have access to one of the best order consolidation and marketing platforms by leveraging a single inventory feed to more efficiently list and advertise products online to dozens of online marketplaces. Selling on more marketplaces mean higher sales volume.
Due to higher sales volume, sellers often turn to the leading shipping software, ShipStation, to speed up the fulfillment process. With more sales orders, having a tight control on inventory becomes more critical. Having too little stock runs you the risk of overselling. Having too much stock leaves you vulnerable to having too much money tied up to inventory sitting in your warehouse.
Finale can be added for inventory management control to fill the void and keep your e-commerce operations humming along.
As orders are shipped, Finale will track of your stock on hand and continually push updated stock levels every five minutes to your SureDone account.
Benefits Using Finale Inventory
There are many benefits to using Finale as your SureDone Inventory Management solution.
Simple Integration. Integration with Finale Inventory literally takes seconds to set-up. All is needed is your ShipStation login credentials and SureDone account. With the SureDone inventory management solution, there are NO changes required to your current SureDone and ShipStation configuration to immediately start syncing orders to Finale and effectively managing your inventory.
Auto Update your SureDone account. With the SureDone inventory management solution, Finale will keep track of all stock levels and will auto-update stock levels back to stock quantities to your SureDone.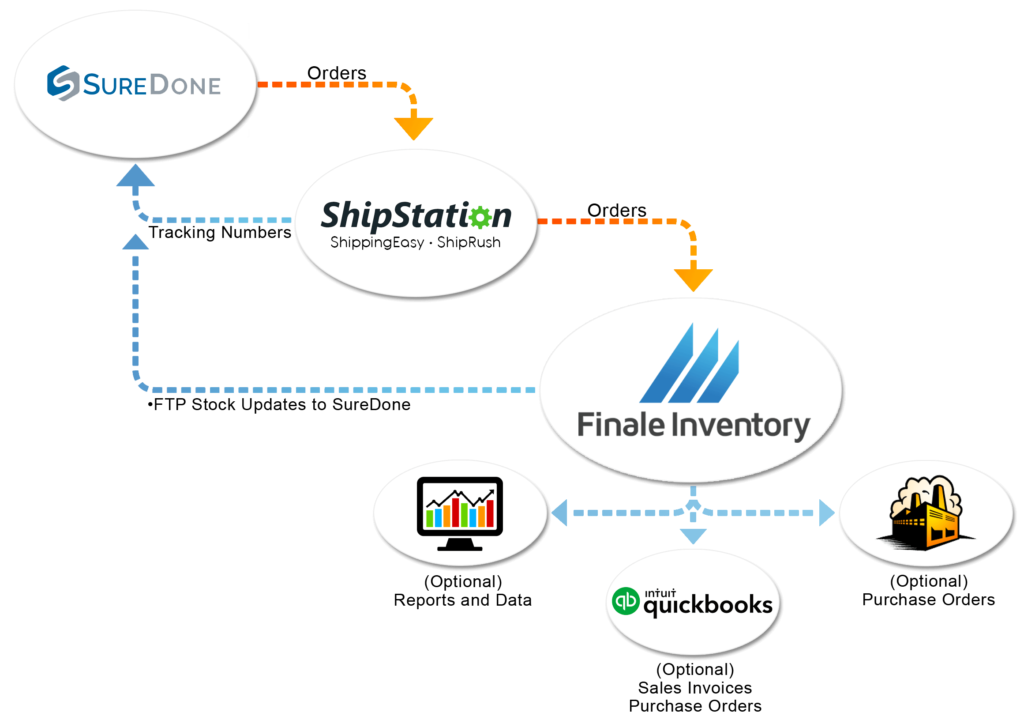 Integrated Mobile Scanning Solution. Finale's integrated barcode scanner software works with any Windows Mobile scanner, Android barcode scanner, or Android phone to allow warehouse workers to efficiently perform warehouse operations with fewer human errors. Functions such as receiving, picking, conducting stock takes, and stock transfers are designed to be quick and efficient.
Advanced batch picking operations, wave picking or pick and pack, will significantly increase productivity and decrease picking errors to improve picking accuracy. When the operations are completed, simply sync the data from the scanner to Finale to make the changes available to everyone.
Restock Forecasting. Running a growing business is hard. There's a lot you have to keep up with. Leveraging the sales velocity of a product, Finale will automatically calculate dynamic reorder points based on your inputs - supplier lead time, desired safety stock, and expected sales growth - to make smarter, faster-purchasing decisions.
Restock forecasting from Finale gives you one less thing to worry about. When your inventory gets low, we'll send you an alert letting you know it's time to send out a purchase order. You can email the purchase order directly from Finale, and when you receive your shipment with Finale, Finale will update all your channels with the will be updated stock quantities.
Product Kitting. Present more selling options to your prospective customers by setting up kits or bundles from your existing "child" products. When a kit is sold, Finale does the work behind the scenes and will properly decrement the inventory stocks level of the child products.
Multiple Shipping Location Support. With the SureDone inventory management solution, you can easily manage your inventory across multiple warehouses.
Support allowing multiple SKUs for a unique Product ID. When you are selling products in different marketplaces (e.g. Amazon and eBay), you may have different SKUs for the same product. Many customers used to manage this unnecessary complexity with complex pivot tables within Excel. Finale Inventory handles this with a couple of mouse clicks and properly keeps tracks on your inventory.
Support High Transaction Volumes. Conduct a large number of transactions? No problem. The SureDone inventory management solution can support up to 1M transactions per month, and we are currently scaling our architecture to support even higher volumes.